A pivotal moment in tennis history was the center of a "Saturday Night Live" skit that also points to a major debate currently going on across the country today. 
The "Battle of the Sexes" tennis match in 1973 was one of tennis Hall of Famer Billie Jean King's defining moments of her career, as she, at 29, defeated 55-year-old Bobby Riggs, a three-time Wimbledon champion and world no. 1 in his prime, who boasted that men's tennis was far superior to women's. 
Using Netflix's "Untold" series, which dives into sports stories from years past, as the foundation, SNL cast member Sarah Sherman and host Jason Mamoa star in the skit that begins by highlighting the real tennis match that happened. 
CLICK HERE FOR MORE SPORTS COVERAGE ON FOXNEWS.COM
"It's been 50 years since Billie Jean King defeated Bobby Riggs in the 'Battle of the Sexes,'" a narrator begins. "She shocked the world and stood up to misogyny in the tennis community. But what if I told you she wasn't the first?"
Enter "Charna Lee Diamond," Sherman's character in the skit, who says, "If any man thinks they have what it takes to beat me, let's play."
Riggs was the one to challenge King for their match. After King initially declined, Riggs faced Margaret Court instead. 
Court, at 30 years old and being a world number one herself, lost to Riggs in straight sets. 
ON THIS DAY IN HISTORY, SEPTEMBER 20, 1973, TENNIS STAR BILLIE JEAN KING WINS 'BATTLE OF THE SEXES' IN HOUSTON.
In the SNL skit, promoters tried finding the right suitor to face Diamond, and that was Mamoa's character, "Ronnie Dunster," who was the "largest men's tennis player" at the time. 
The skit's match was held in the Houston Astrodome – the actual site for the King-Riggs match in 1973 – where Dunster and Diamond were pitted against each other. But on Dunster's first serve, the ball goes right through Diamond's stomach. When she asks to serve again, it decapitates her.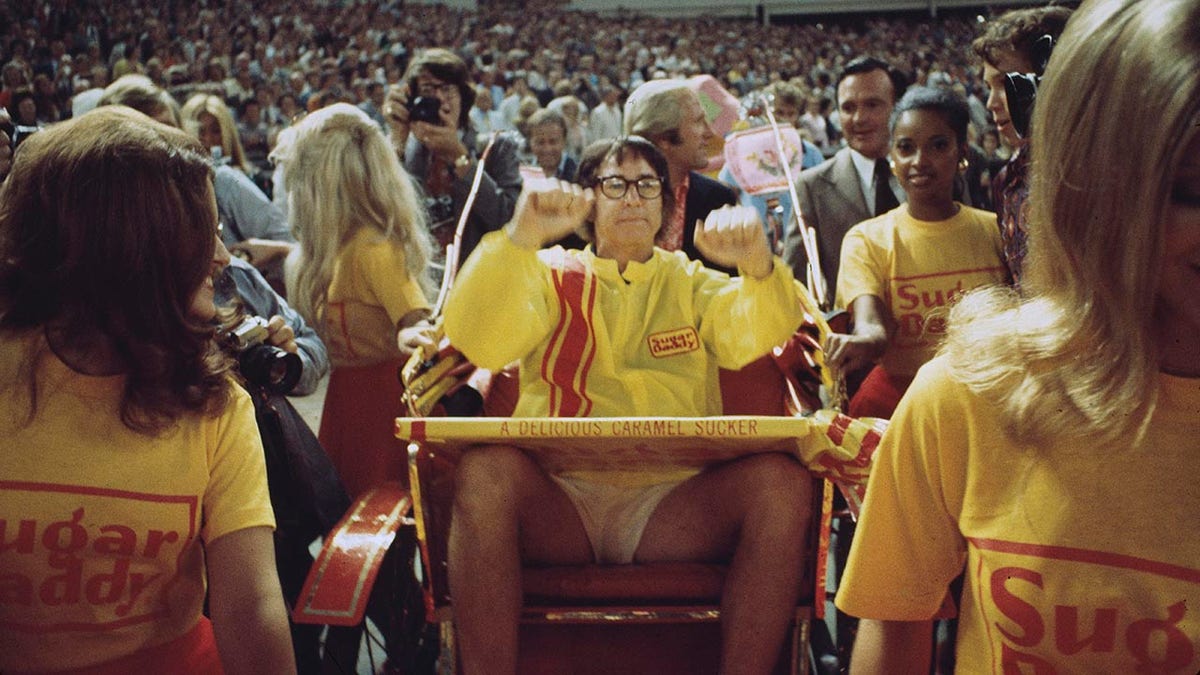 "We should've seen it coming," a "sports journalist" says in the skit. "He was 300 pounds of pure muscle, and she was one of the lowest-ranked female players at the time."
Of course, this was for laughs from the SNL team, and it generated plenty from the live audience that can be heard in the background. But it also points to the current debate about trans women playing against women in women's sports. 
The argument from those on the side of the "Save Women's Sports" movement is that trans women, or biological males, put women at a disadvantage in sporting events due to genetic differences. 
BILLIE JEAN KING CELEBRATES 50TH ANNIVERSARY OF US OPEN OFFERING EQUAL PRIZE MONEY TO FEMALE, MALE COMPETITORS
This has led to legislation in various states, banning biological males from competing in women's sports at various levels. It's also caused outrage from the other side of the argument, those believing inclusion for all based on how that person identifies is how sports should exist.
King is a tennis icon and gender equality advocate who played a paramount role in bringing equality for women's tennis player to the sport, which the "Battle of the Sexes" did.
Seeing Riggs flaunt his victory over Court, King accepted the challenge. She admitted at the time the match was much more than proving women can compete at the highest level. 
"I thought it would set us back 50 years if I didn't win that match. It would ruin the women's tour and affect all women's self-esteem," she said at the time.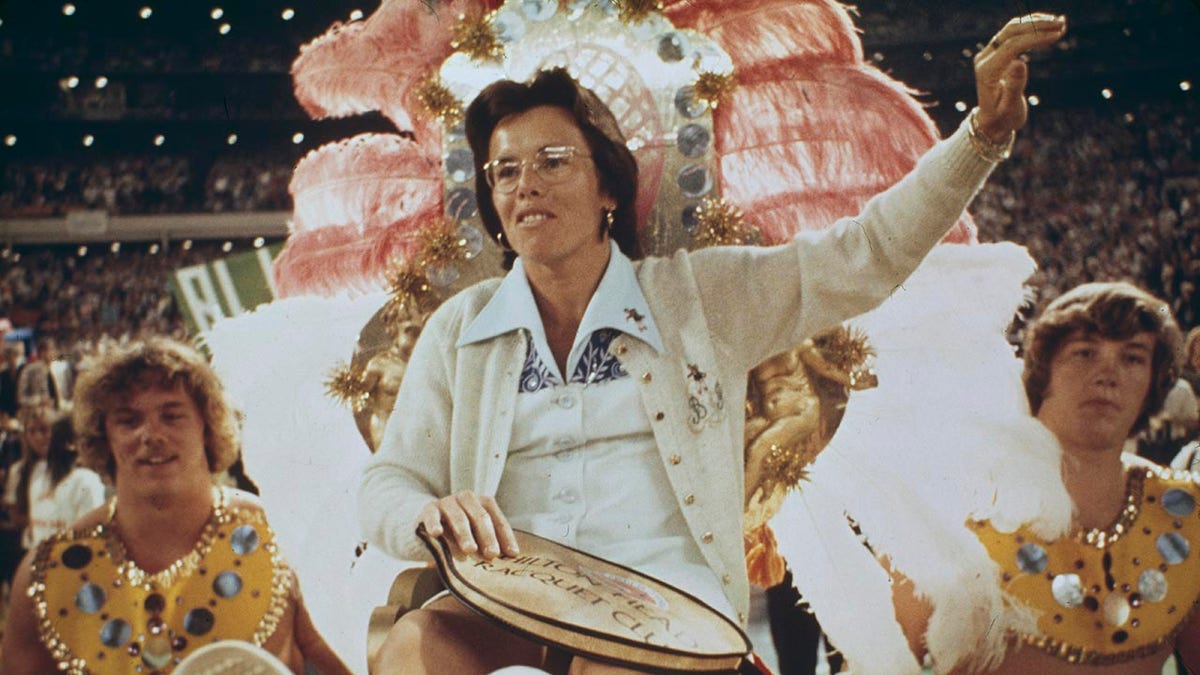 King beat Riggs, 6-4, 6-3. 6-3, winning the $100,000 prize at the Houston Astrodome on Sept. 20, 1973. 
King was a part of the Original 9, a group of women's tennis players who battled inequality in pay compared to men, that convinced cigarette brand Virginia Slims to sponsor their own series. They created their own tournaments, touring everywhere they saw fit. 
CLICK HERE TO GET THE FOX NEWS APP
That has since turned into the Women's Tennis Association, which still stands today, reaching its 50th anniversary in June.